Vaun Wilmott has created a complex, deliberate and consciously controlled reality shift that has fans hooked. Dominion's stunning visuals and Bill Brown's haunting sound tracks combine to create an emotional response from viewers: anger, sadness, fear, love and passion. AND, on Thursday nights you will find the fan friendly Dominion cast and crew members live tweeting during the show .  Rosalita Moog
Welcome to our new author Kiddle.
Dominion has faced some unfortunate scheduling challenges in S2. Split from Defiance, its very successfully paired sister science fiction/fantasy program last season, Dominion also moved to the 10 p.m. time slot, on what is for most people, a work night and follows WWE wrestling.  It's questionable if the demographics are the same.  If that wasn't hard enough, Dominion has faced the Republican Debate, as well as preseason football (a circumstance which is only likely to get worse as the regular football season begins).  This is such a great show, with such significant improvements, I sincerely hope that SyFy considers how strong the ratings are DESPITE these circumstances.  This show assuredly deserves a third season.
Fans, to improve Dominion's chances for a third season, it's essential to either stream on SyFy , watch On Demand, or watch DVR recordings of Dominion within three days of the live broadcast in your country.
Dominion Season 2 (S2) started out strong and, almost unbelievably, the show's content has grown stronger each week.
Dominion Season 1: A Bit of History
Dominion takes up roughly where the movie Legion left off, but set 25 years later. The Father has left. Twin Archangels Michael (Tom Wisdom) and Gabriel (Carl Beukes) have VERY different takes on what it takes to entice Father to return.  Gabriel's answer was to remove the infestation that is humans from the planet Earth. Michael believes just the opposite.  In Dominion Season One (S1), we are reintroduced to Michael and Gabriel and brought up to date on the political structure of Vega, one of the remaining human settlements left after the utter devastation wrought by Gabriel and his army of human occupiers (known as 8-balls, because of the trait of pure black eyes). Further information on Vega's political structure and background are helpfully contained in "the Citizen's Guide to Vega" online.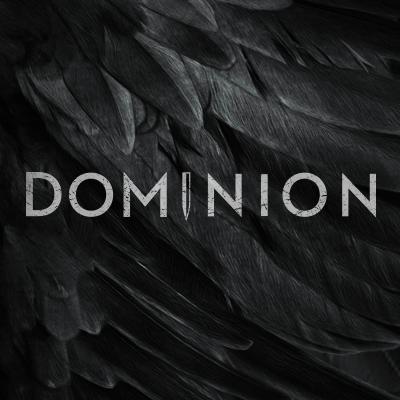 A prophecy exists that there is a "Chosen One" who can lead the humans to salvation.  S1 reveals this to be Alex Lannon (Christopher Egan), imbued with tattoos representing Father's message that only Alex can read (and only partially).  In love with Alex, Lady Claire Riesen (Roxanne McKee) is discovered to be pregnant.  Claire is the daughter of General Edward Riesen (Alan Dale), who set up the political, social and military structure of Vega to help ensure the survival of the remaining people. Another leading family is the Wheles.  Father David (Anthony Stewart Head), is Secretary of Commerce, and son William (Luke Allen-Gale), is a secret Acolyte (and leader) of a sect of Gabriel worshipers. Among the Senators of note is Becca Thorn (Rosalind Halstead).
One of Alex's fellow soldiers, Noma Walker (Kim Englebrecht), proves to be a higher angel. She and Alex rekindle their love, which existed before Alex and Claire were an item.  From another settlement the Queen of Helena, Arika (Shivani Ghai) is present at Vega, pursuing her own agenda.  Finally, Uriel (Katrine De Candole), sister to Michael and Gabriel, is in Vega and her loyalties appear to be split between her brothers, but she tends to lean towards Gabriel and his agenda.
The end of Dominion S1 launched many of the main players in different directions.  Michael, overcome with profound anger over Senator Becca Thorn's experimentation on angels, murders her. Horrified at himself, he leaves Vega.  Noma and Alex end up in Gabriel's' Aerie. William, exposed as a traitor, is abandoned in the desert by his father David. Edward Riesen, who had been conducting a secret affair with the 8-ball who occupied his wife's body, leaves for the New Delphi settlement. Pregnant Claire Riesen is left behind to rule Vega, with Arika of Helena as an advisor (with her own hidden agenda).  Although Michael considers himself Alex's protector, his location and Uriel's location are unknown.
To me, the most fascinating aspect of S1 was the inversion of everyone's relative position.  In particular, Michael, initially seen as the protector and savior of humankind, is shown to have wrought destruction on mankind centuries before, being stopped only by Gabriel and Uriel's intervention. Alex begins the season as a member of the Archangel Corps, having risen from V1 status, and ends up identified as the Chosen One. Claire is a school teacher who ends up as the Lady of the City, in charge of Vega. We meet Noma as part of the soldier Archangel Corps, but we (and Alex) find out she's actually a higher angel. Considering the season was only 8 episodes long, an amazing amount of world and character building was accomplished.
Dominion Season Two
The scope of Season Two (S2) is much, much broader. So far, without giving TOO much away for viewers who haven't had a chance to catch up on S2, we've gotten to visit Gabriel's Eyrie, New Delphi and a new town, Mallory.  (You won't want to miss Michael's ocean visit, prior to being "called" to Mallory).  In the meantime, insurrection is brewing in Vega, due to the continuing hardship of the lower V levels. We've seen an explosion at the Eyrie, and in Vega, a tense meeting between the brothers Michael and Gabriel, as well as an alliance between them, however tenuous it may be. We've met town folk of Mallory, apparently protected by a dark, mysterious entity called "the Prophet" and untouched by the angel war on humankind (and how is THIS possible after twenty-five years of extermination??)  We're introduced to New Delphi, led by Julian.  Apparently New Delphi is a place where 8-balls and humans co-exist in relative harmony.  Back in Vega, we see growing tension between Claire, aligned with Arika, against David Whele.
Some of the strongest scenes in S2 provide crucial background on our two male archangel twins, Michael and Gabriel, revealing much about their continuing motivations. In addition to the historical background, the strength of the relationship between the brothers is tested, with some exceptional acting on display. In fact, nearly everything in S2 is ratcheted up a notch. The locations, acting, costumes, expanded plot… it's amazing what the writers, directors and producers have been able to accomplish, not least of which is continuous surprises! Additionally, the new characters are wonderfully deep, with a rich background quickly and carefully drawn.  Of particular note is Julian (Simon Merrells), running New Delphi – this new character bears CLOSE watch.  Additionally, Gates, an engineer significant to the design of the surviving town of Vega, is fascinating.

Many fans clamored after S1 for the introduction of other Archangels, in particular Raphael, twin sister to Uriel, and Lucifer.  Although it is midseason, it appears we will meet (or maybe have already met) at least one of these two characters.  You won't want to miss the addition of Revelations to SyFy's Dominion website . Each week, a new chapter is revealed with fascinating, detailed information about the goings on in the world of Dominion.  And, note, the actors, and crew, are quite active on social media, which is a lot of fun.
Dominion (SyFy) Season 2 grade – A.
Dominion TV Show Character Inversion
Dominion: How Would We Handle The Apocalypse?