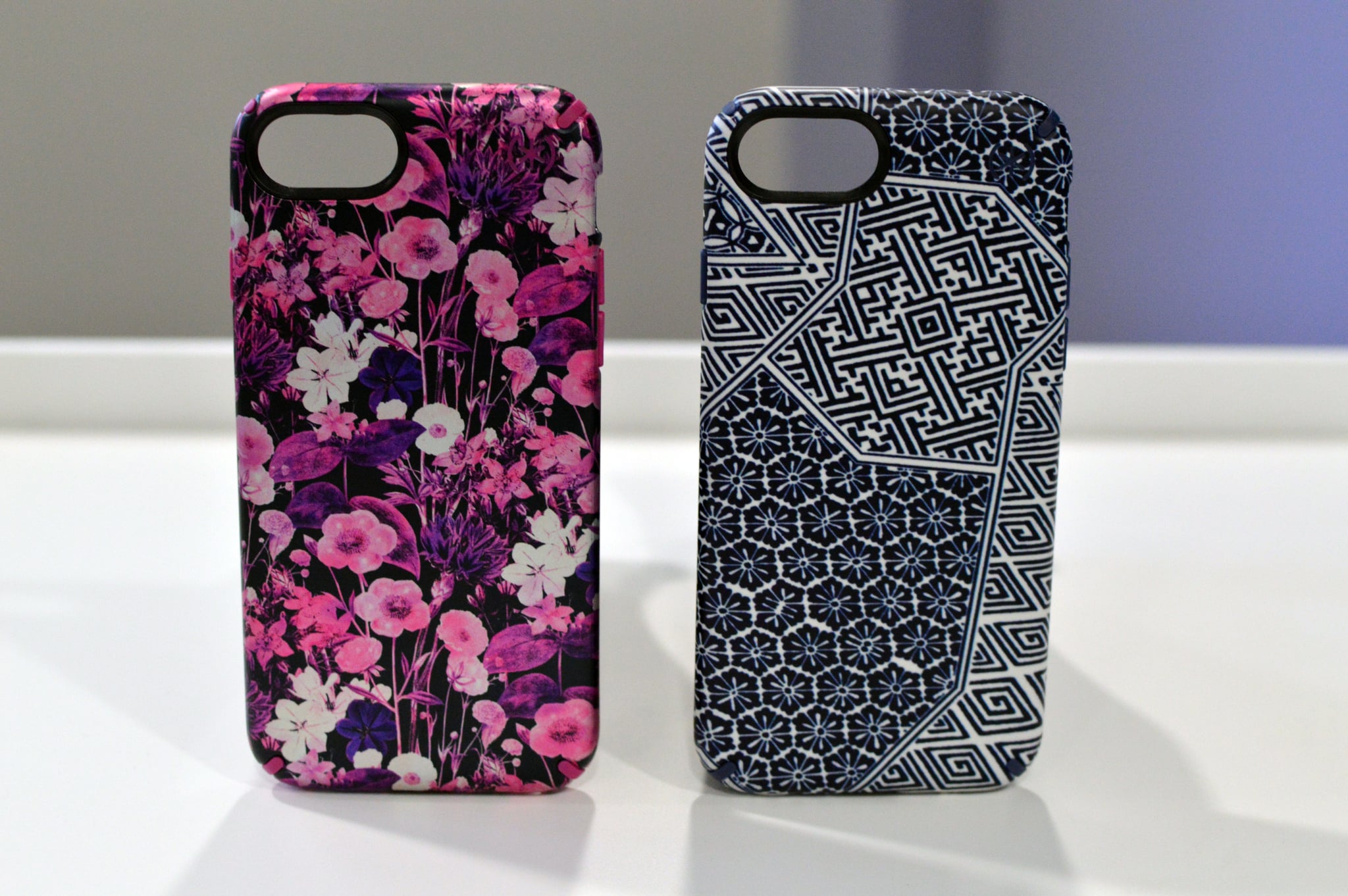 The most stressful part of getting a new smartphone isn't when it'll ship or transferring all your data. It's choosing which phone case will make the cut to tell the world you have a new phone and that you're a new person because of it. When I bought my iPhone 6S, I went with a dark pink glitter case. To me, it says responsible but likes to have fun. To others, it hopefully sparkles on the bus and makes them think that I'm really cool (a girl can dream, all right?).
Gone are the days of being only able to choose a case that clips onto your belt (aka the case beloved by dads everywhere). Today, it's all about cases with stickers, falling glitter and sparkles, and pretty much anything else you can dream of. They function as a literal personal extension of our style or just how we're feeling that particular day. And like any of your other favorite accessories, there's someone behind the scenes designing and creating that phone case you use every day.
A phone case line alone can require 20 presentations and 300 designs.
This is where Iris Yu comes in, a colors, materials, and finishes (CMF) designer at Speck. Her entire job revolves around pitching, creating, and styling phone cases that can withstand impact while matching your day-to-night look. It's a career you might not have even thought about and one Yu executes similarly to an editor of a fashion magazine. In fact, a phone case line alone can require 20 presentations and 300 designs. The full process takes six months.
As a tech reporter who regularly rounds up phone cases for my job, I've encountered other tech reporters in the industry who snicker at the concept of how important these accessories are to people. Like many trends women love and obsess over, such as taking selfies or using Snapchat filters, it's a product that some don't think much about, even if the design is something they really love and enjoy. But with the release of the rose gold iPhone 6S or the S7 in Pink Gold, cases are no longer something industrial and without design. Instead, a market has popped up for clear cases that show off the color of the phone or use illustrations to make your phone another accessory. It's an industry that requires the talents of someone like Yu, someone who takes a closer look at trends and chooses what will grab someone's attention above all the other choices.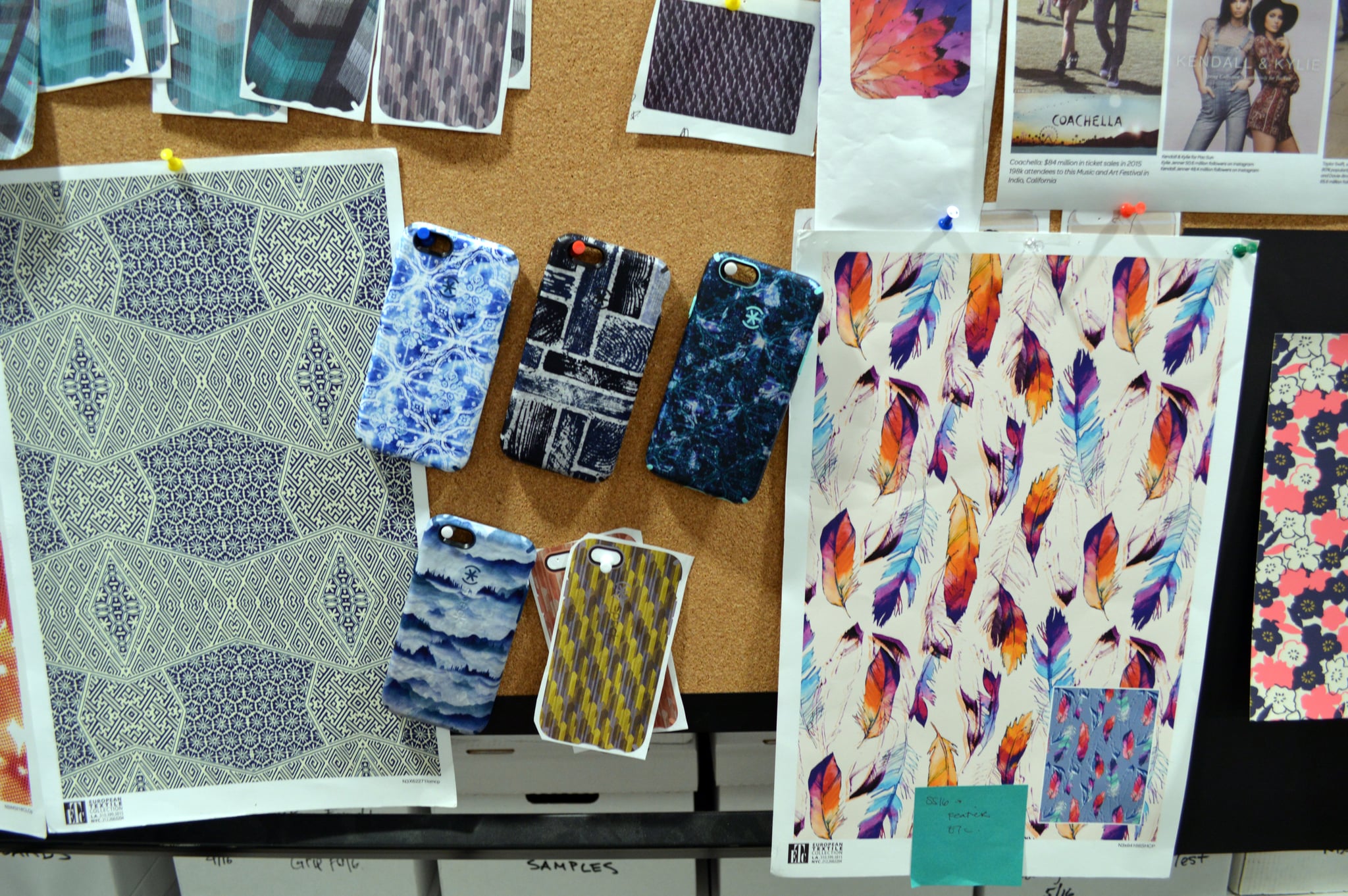 In order to perfect the final product, the attention to detail begins with trend searching and scouting. "We try not to look within our industry to look at what everyone else is doing," said Yu. "We get inspiration from as many places as possible. Looking globally and looking in more sectors gives you more cohesive and in-depth insight into what is happening." For Yu, this means looking at Ikea or Teen Vogue or traveling to China and visiting a fabric store to find the perfect look. "We weren't just like, 'OK, let's just purchase this oriental pattern'" said Yu. "We got the actual material and transferred it into a pattern and a finished product." Using the real material as inspiration is something Yu believes sets her apart.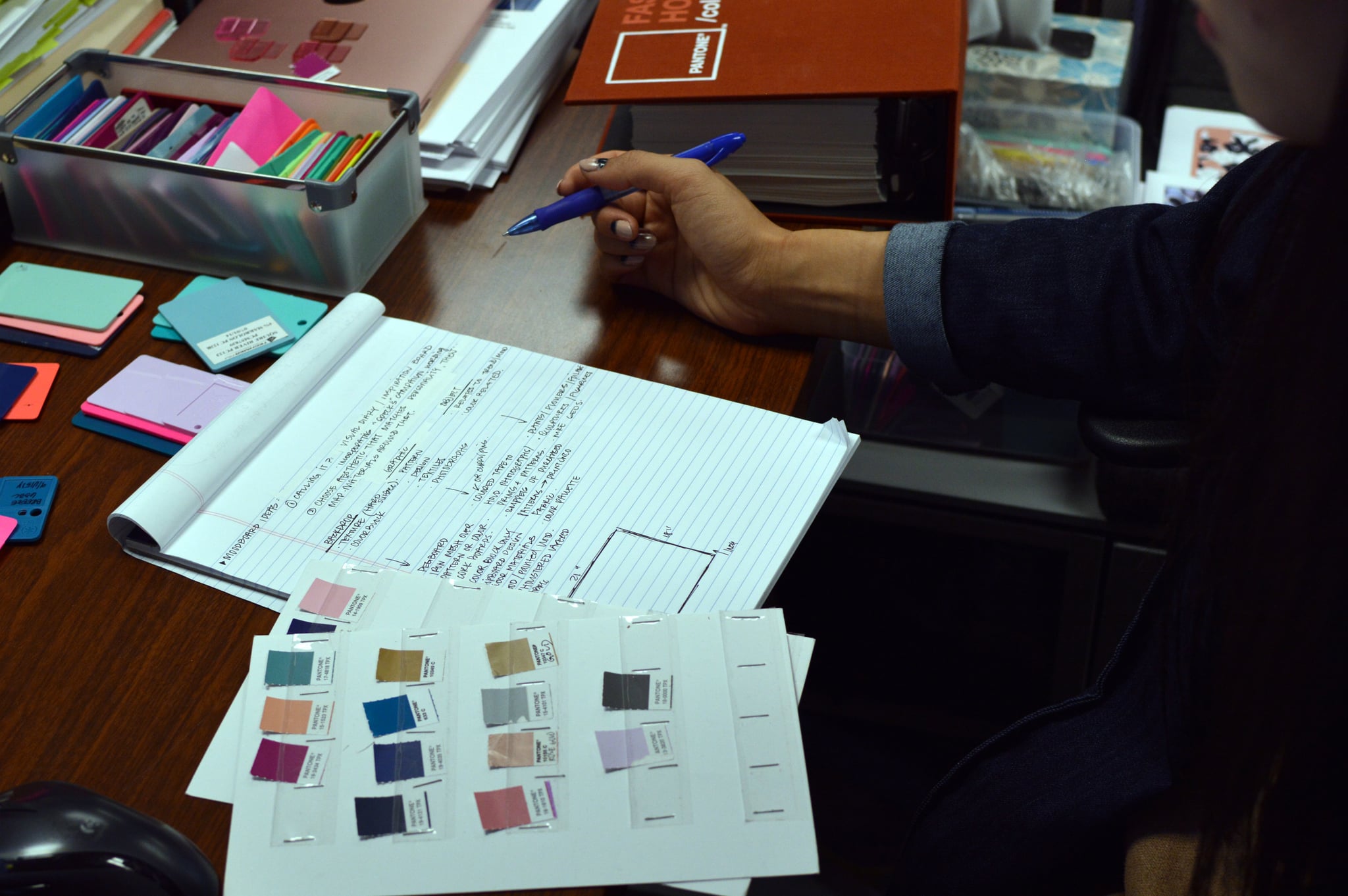 For instance, the newest line of Speck phone cases, called Presidio, includes seven different types of cases, each one inspired by four larger themes and "stories." There's Deep Space that draws its inspiration from products such as the MAC Star Trek makeup line and Star Wars: The Force Awakens. Another one, Big Sky, centers around Taylor Swift's good-girl persona and Kendall and Kylie Jenner's bohemian line at PacSun. When the project began in February 2016 to create the Presidio line, it included six stories. Whittled down to these four stories, Yu and the Speck CMF team were then able to figure which clear designs would work best, like Golden Blossoms, a design illustrated by Yu herself. (You can see Yu holding the case further below.)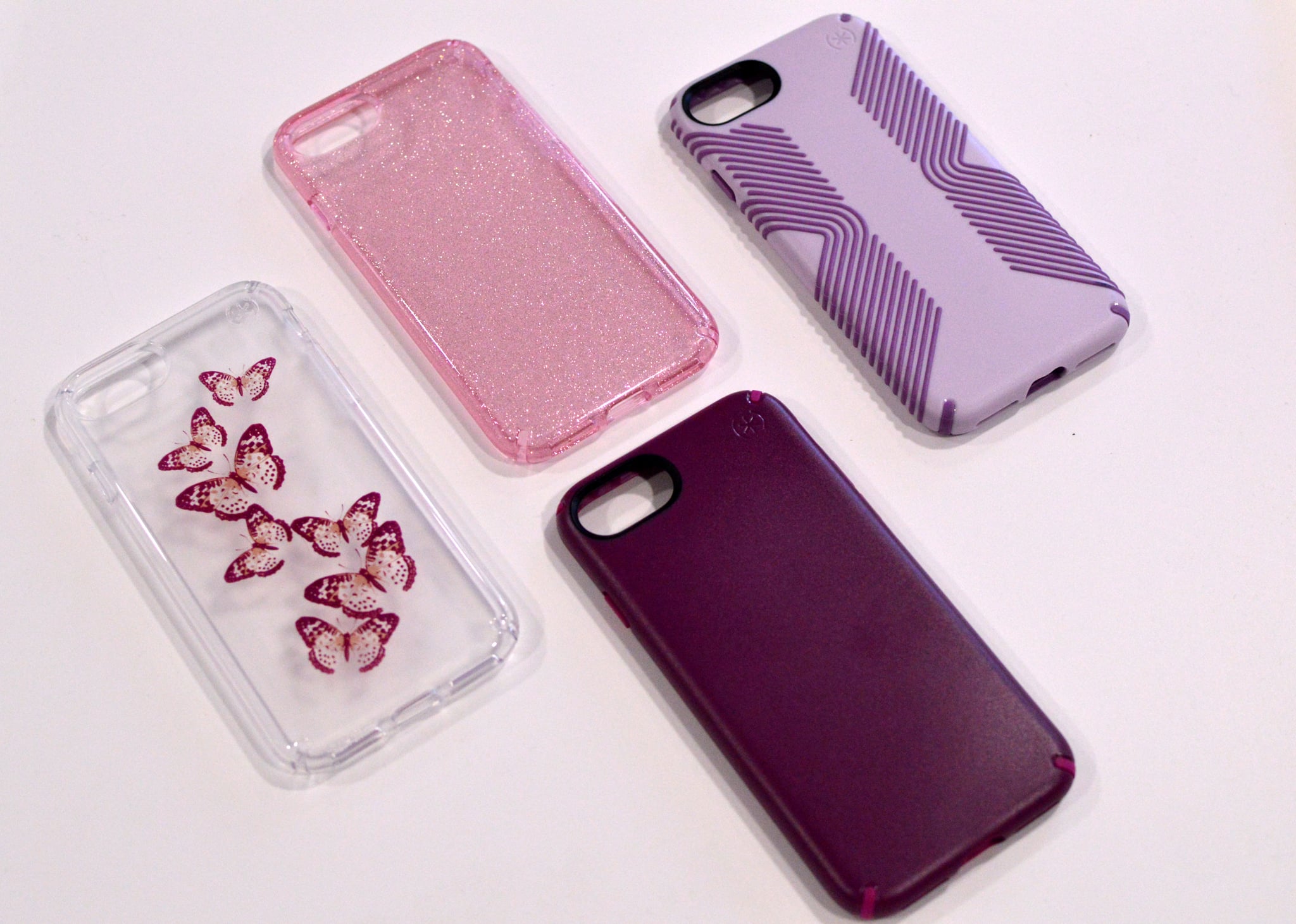 The accomplishments and hard work of the CMF team is also raising eyebrows within Speck. People were so impressed with the vision boards the CMF team created for the Consumer Electronics Show (CES), that the sales team used it in meetings. "It's not just about making something look nice, but also being able to tell that visual story and show off our inspiration and what we're influenced by," said Yu. "And I think that's what consumers want. They want authenticity. They want to see a nice cohesive story." This thinking also builds up the credibility of the CMF team. "We're not just picking things; we're doing the research," said Yu.
This type of validation is critical for Yu, a Chinese American born in the Bay Area. Her mother, an immigrant from China, doesn't quite understand the value Yu has at Speck (yet), though she's always supported her. Her mom still hopes she will use her premed knowledge to land a medical career. "Even to this day my mom's like, 'Hey I have a friend, she has an opening in a medical doctor field, do you want to try that out?'" said Yu. "And I was like, 'Mom! I'm flying to New York next week to find new designs and new patterns. This isn't just a lame office job; it's an actual career. Like, c'mon!"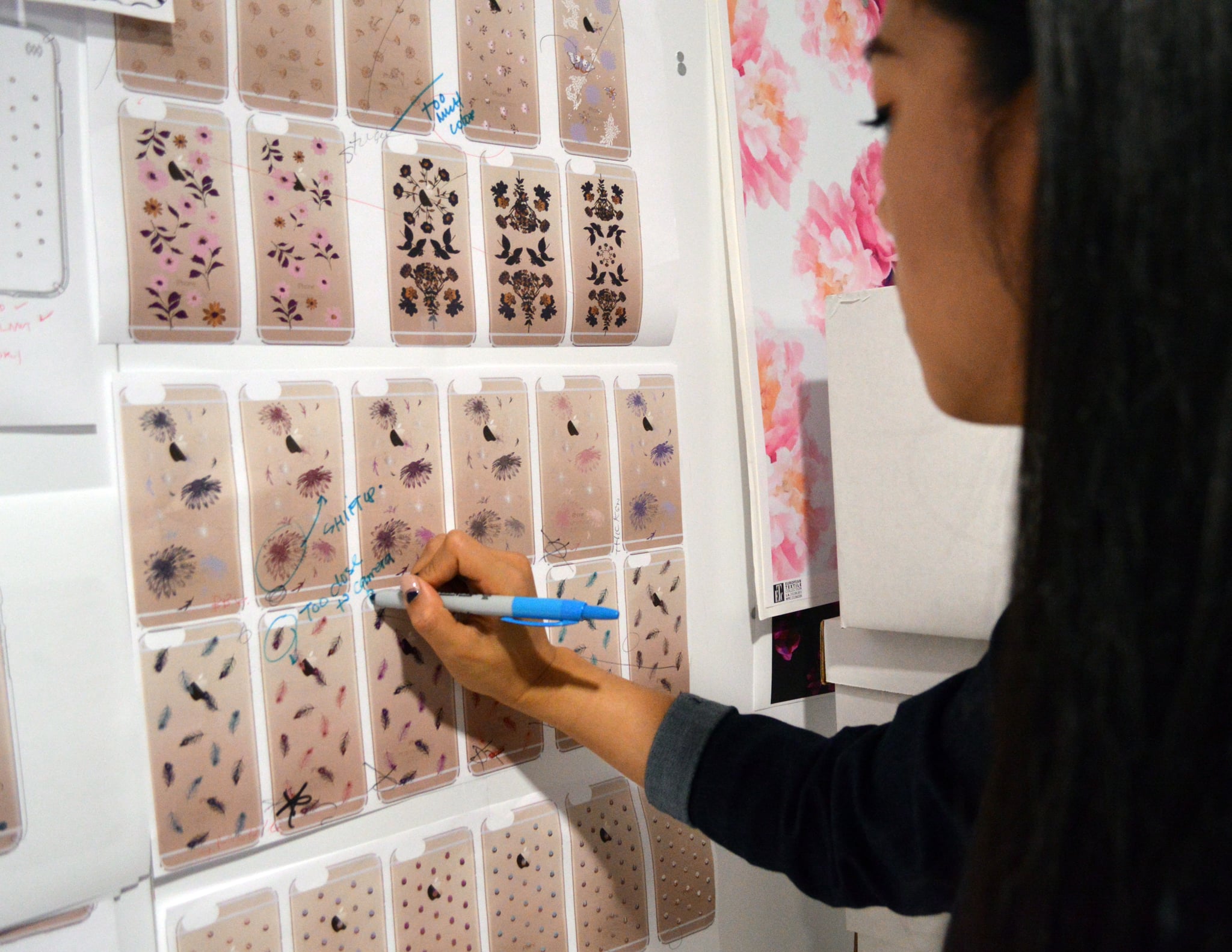 For Yu, it's another step in the surreal journey she's taken to become a CMF designer. With her combined knowledge of chemistry and studio art, her senior art professor made Yu think more about the organic nature of the materials she used to create art. This led to her to realizing "the beauty of textures and letting my materials speak for themselves." After graduating in 2013, Yu teetered back and forth between art preservation and her actual art. By chance, she came across the CMF job posting and it led to where she is today. Yu credits her two vastly different interests that set her apart from the pack and made her uniquely qualified for the role.
As a female designer, Yu faces pushback for her fashion style at work and the phone cases she designs. In the same way that some look down on fashion as a career, Yu must defend case design as something to be taken seriously. "We're doing a ton of research, and if you guys would just see all the influences we have, you would be able to see that."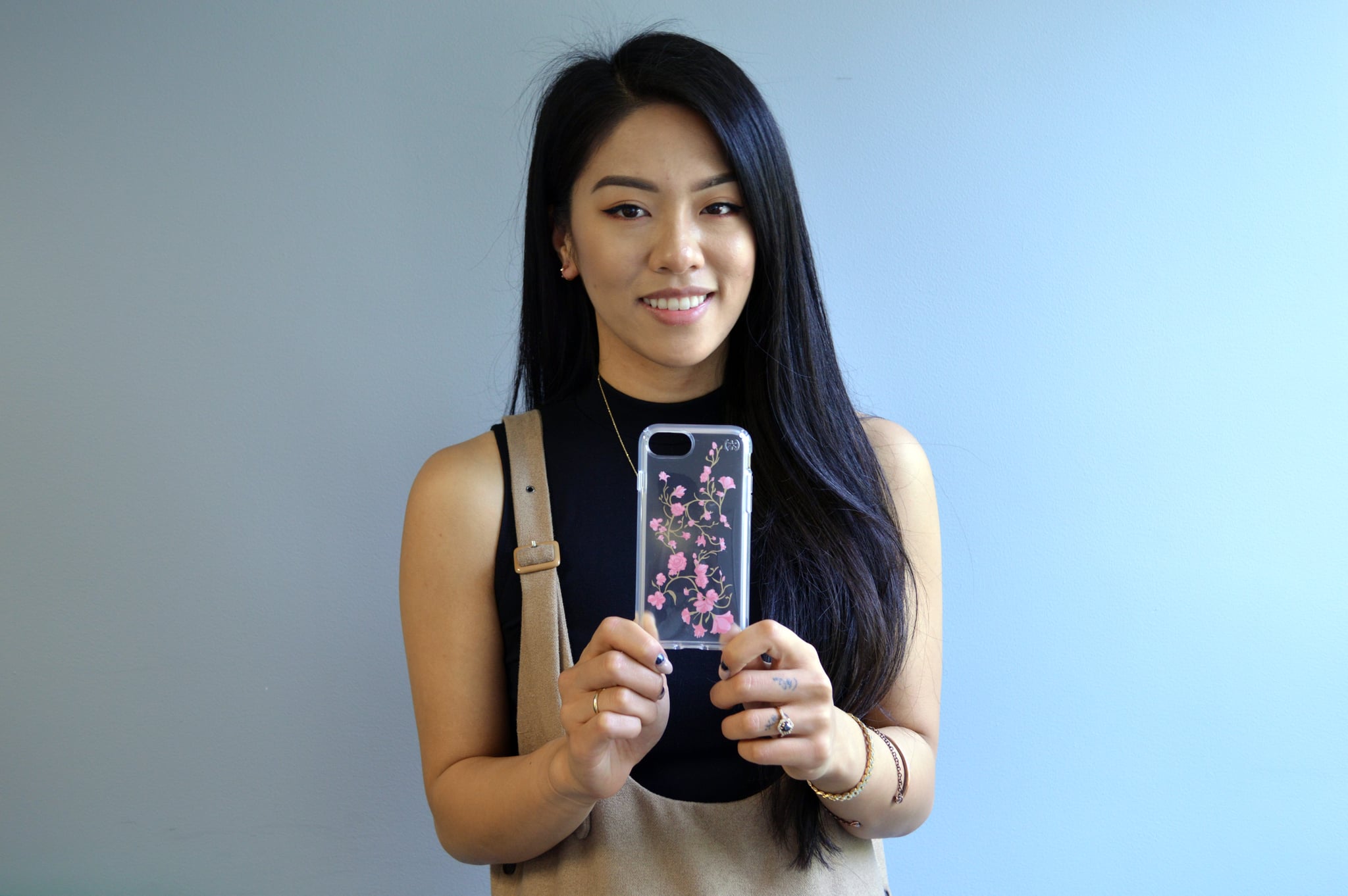 It's not the first nor last time Yu might see this type of thinking going around. Phone cases, like fashion and beauty, are used as tools to express personality. But in doing so, it becomes tainted as appearing vain and frivolous. Yet, it's how people actually want to use their phones. In a 2013 study, the NDP Group found that 75 percent of smartphone owners have a case. When it came to iPhone owners, 49 percent have used more than one case, and a quarter of those surveyed use it "as a way to change the look of their phone." Despite this information, cases get set aside as something that only women want or think about. A trend piece on teenagers and tech in The New York Times only included a quote from a teen girl about phone cases, reaffirming this stereotype.
Before the rise of the iPhone, particularly the iPhone 6 and 6 Plus, which drove accessory sales to "record levels," phone cases were considered plain-looking items that lasted just a few months. But as phone screens cracked and cases started to incorporate fun designs and bright colors, people started thinking of a phone case as an accessory. It was another item to pin and decide how a case could show off your personality.
So the next time you're deciding on a phone case, spend five minutes or an hour picking one out. It's another way to express yourself, make a statement about your beliefs, or show off what your favorite junk food is. Either way, it's your style choice to make and no one should phone-case shame you for it.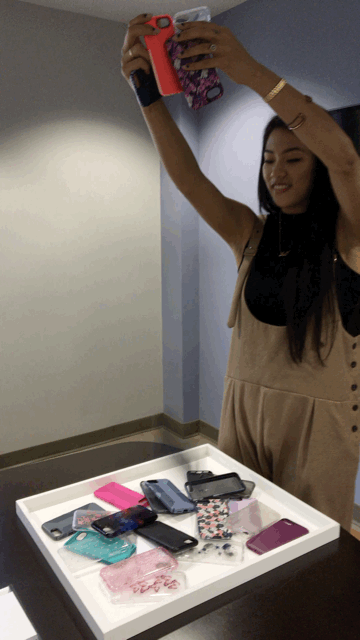 Image Source: POPSUGAR Photography / Ann-Marie Alcántara