Machines at the Temple of Heaven park scan visitors' faces before dispensing a fixed length strip of toilet paper.
The reason for the machine was humorous. Older local ladies stole the Temple of Heaven's toilet paper.
Anyway, people think something stinks about this
This device should wipe out toilet paper theft.
How much toilet paper does the facial recognition toilet paper dispenser give you?
The facial recognition toilet paper dispenser gives you (24 to 27.5 inches) then you must wait 9 minute for more. The toilet paper dispenser has your face map to prevent cheating.

Diarrhea At The Park

What about diarrhea?
BBC asked a reporter to flush out what happens. They said that staff on the ground,"will directly provide the toilet paper." That word, "directly" concerns me.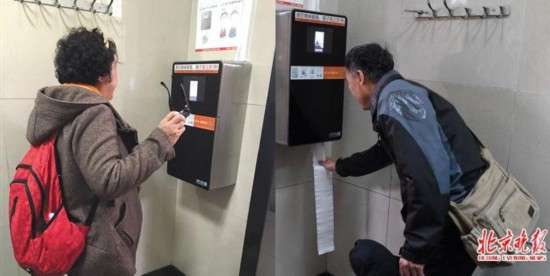 Facial Recognition Toilet Paper Dispensers Will Boost Tourist Trade 'The Paper Trail'
Toilet paper here is cheap, $0.05 – $0.06 per foot. So, you smuggle bring in an extra suitcase filled with toilet paper. You can then hang outside the bathroom and sell a little somethin somethin. You will clean up.
Done! You paid for part of your vacation. (If you make a profit you can charge the trip to your business and take it off of your taxes.)