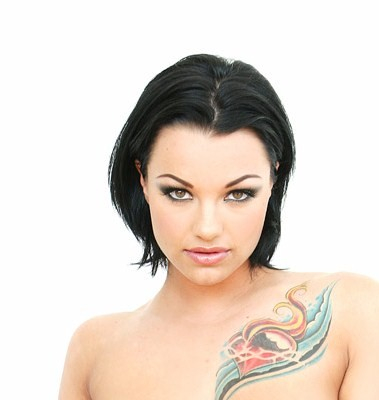 Wildworks Productions announced that Michelle Sinclair, known worldwide as adult film star and icon "Belladonna," will make her mainstream feature film debut  in the horror thriller, STRIPPED, set to film in Dallas this Fall.
Produced by Jeffrey Allard (THE TEXAS CHAINSAW MASSACRE, THE VIOLENT KIND), Adam Donaghey (ST. NICK, LOVERS OF HATE), John Wildman and Justina Walford, STRIPPED was written by Walford and Wildman and will feature Wildman's feature film directorial debut. Sinclair joins a cast including the previously announced Tiffany Shepis (THE VIOLENT KIND, NIGHTMARE MAN) and Samrat Chakrabarti (FINDING GRACELAND, KISSING COUSINS).
Described as post-feminist horror, STRIPPED follows the events surrounding a birthday outing with two brothers and a friend which turns into a horrific fight for survival after they become trapped in a house with a "family" of malevolent women. Sinclair will play the role of 'Ginger' in the film, a relative newcomer to the household of women whose loyalties are dangerously ambiguous for all concerned.
One of the most beloved and popular performers in adult films today, Sinclair has built upon her initial notoriety as Belladonna to become an award-winning director and producer as well. With her husband and business partner Aiden Kelly, they have developed their Belladonna Entertainment  company and Deadly Nightshade Productions label into notable successful business ventures known for "gonzo" entertainment with a feminine flair.
Sinclair has also co-starred in James Gunn's popular comedy web series, "PG Porn," and appeared on the Showtime reality series, "Family Business." In addition, she was a featured subject in both Timothy Greenfield-Sanders' acclaimed HBO documentary "Thinking XXX" and Jens Hoffman's documentary "9to5: Days in Porn".
"We could not be more excited to have Michelle be a part of this project. She was someone that Justina and I had in mind as a 'dream choice' for this role from the moment we began thinking about casting. She has an innate openness and warmth that you can't help but be drawn to. It will be a thrill to introduce her to a whole new audience and re-introduce her to Belladonna's legion of loyal fans," said director/producer Wildman.
Sinclair added, "Aiden and I are both fans of horror films and we thought the script was both exciting and twisted. We have been looking for the right mainstream project for me to do and after reading the script and hearing John and Justina's ideas, we knew that STRIPPED would be a perfect fit for me." 
Along with Sinclair, Wildworks Productions also announced the casting of Farah White and Michael Guarnera in STRIPPED.
White most recently was seen in Todd Graff's BANDSLAM with Vanessa Hudgins, and will appear on the big screen next in Jon Inwood's EXTERMINATORS with Heather Graham, Jennifer Coolidge and Amber Heard and the FOX action/comedy series "The Good Guys with Colin Hanks and Bradley Whitford."  White will play the role of 'Lin', the matriarch with a culinary bent within the household of malevolent women.
After a string of guest-starring roles on television series such as ABC's "Desperate Housewives" and "Alias", and CBS' "Navy NCIS: Naval Criminal Investigative Service", the upcoming indie thriller THE HOUSE THAT JACK BUILT, and appearances in CHARLIE'S ANGELS: FULL THOTTLE and BRUCE ALMIGHTY, Guarnera will take on his first lead role in a feature film with the role of 'Jacob' in STRIPPED. One of a trio of young men out  to celebrate his brother's birthday, 'Jacob' discovers he holds the key to his own survival when they find themselves trapped in the house with the lethal family of women.
Commenting on the addition of White and Guarnera to the cast, Wildman added "The Dallas film community is rich with acting talent and we think Farah is the prize of the bunch. She and Tiffany are going to make an incredibly sexy and deadly combo on screen. And with Michael, we feel like we have found an actor that will deliver a classic leading man presence with a performance that will provide the heart to this film."